WHAT IS BAYER RV MOBILE SERVICE?
Bayer RV is excited to announce the newest addition to our service department, the Mobile Service Truck! Our job is to make servicing your RV easy and convenient by traveling to you to service it whether it is at your house, the campground, roadside, or anywhere else!
WHAT CAN WE FIX?
We are equipped to perform complete diagnostics to very complex repairs and or replacements. As our customers expectations change so do our services to make completing service to your RV more convenient for you!
HOURS OF OPERATION
Monday: 8:00am - 5:00pm
Tuesday: 8:00am - 5:00pm
Wednesday: 8:00am - 5:00pm
Thursday: 8:00am - 5:00pm
Friday: 8:00am - 5:00pm
Saturday: By Appointment
Sunday: Closed
LIST OF SERVICES
A/C Repair & Installation
Water Heater
Repair/Replacement
Electrical Diagnostics
Water Leak Repair
Furnace Repair/Replacement
Battery Installation
Refrigerator
Repair/Replacement
and much more!!!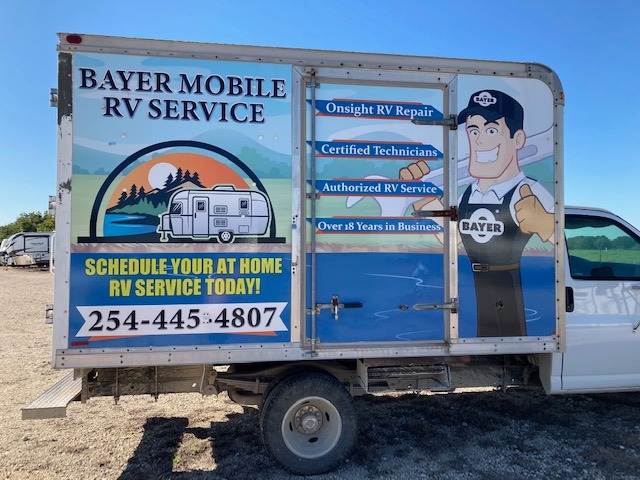 How to schedule your mobile service?
Call: 254-237-2287
Email: bayerrv@bayermotor.com
18417 S US HWY 377 Dublin, TX
NEED PARTS FOR YOUR RV?
We offer quality OEM parts for purchase, and our parts department stocks almost anything you would need for your RV.
Parts Specialist